Engineered to ensure your garage door's longevity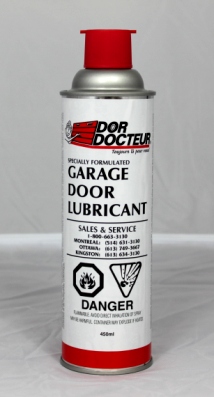 For a smooth running
Portes Olympique presents its aerosol Lubricant, specially engineered for an optimal use of your garage door. Portes Olympique's lubricant for garage door increases the lifetime of all moving parts involved in the opening and closing of your garage door. Apply lubricant on all steel rolling parts to ensure the longevity and a smooth running of your garage door.
Security information
In order to prevent risks of explosion and serious injuries, keep the lubricant away from heat and fire and handle with caution, being sensible to impacts. The aerosol can will explode if it's heated at 50°C or more, or if it's crushed. The product contains hazardous combustion products (carbon dioxide) and has to be kept away from children. For technical details, please find below.
[hr]
Details_Portes Olympique lubricant
PVC weather strip lubricant

The weatherstrippings are made of quality P.V.C. and therefore should be cleaned with an all-purpose vinyl cleanser, as you would use on your patio furniture.
Lubricate the weatherstrippings every three months (more frequently for high usage doors) with Garaga weatherstrip lubricant or a silicon-based oil.
Do not use petroleum-based oils as this will cause loss of elasticity. Petroleum attacks the rubber and decreases its flexibility.