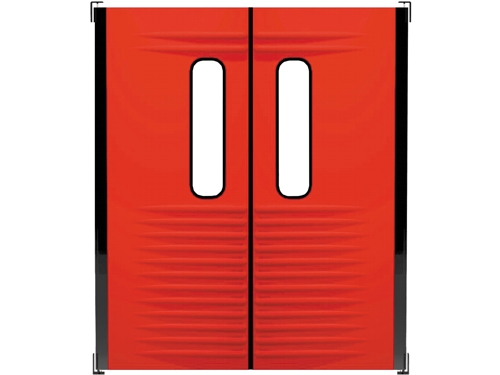 The revolutionary new Chase XLP 5000 double acting traffic door offers a contemporary "designer style" look with a 3 dimensional surface. Integrated "baseball bat" bumpers above and below the window add built-in protection against abusive traffic. The XLP 5000 improves productivity by getting people and product through the door even faster. The door is designed to compliment todays' more vibrant store décor, open and close faster and easier, be safer to use, simple to install, easy to maintain and available at a price less than traditional products.
Colours

Beige

Black
Blue
Granite
Grey
Light Grey
Red
SpringFX™ Technology
The XLP 5000 improves productivity by getting people and product through the door even faster than before by turning impact energy into opening speed with SpringFX technology. As the door absorbs an impact, the lightweight "hollow core" plastic door and bumpers will compress back to their normal shape accelerating the opening speed.
Door Panel
Exclusive "hollow core" panel is thin, flexible and lightweight. The shell uses a recyclable polyethylene plastic and has a minimum wall thickness of 1/8", overall panel thickness varies from 1" to 2" due to its 3 dimensional surface of "baseball bat" bumpers below and above the window.
Back Edge Spine
For added strength and durability, the entire length of the panel is reinforced at the back with a one-piece, continuous extruded aluminum with flanges that wrap the door panel. The spine is powder coated gray or black.
Hinge
The Ultra Soft Touch™ (patent pending) assisted gravity hinge system (patent pending) is "hidden" in the back spine. There are no unattractive upper panel cutouts or large corner hinge components visible. The hinge system is pre-installed, saving installation time and money. The hinge contains a coil spring so the door opens and closes fast. The hinge allows for extra wide swing, reducing damage to the panel. Panel centering adjustment is located at the bottom of the door.
Soft Front Leading Edge
The leading edge has a molded in extrusion to accept a soft leading edge safety gasket. Biparting doors use a blade gasket.
Window & Frames
To aid in safety the door comes standard with a large, 7" x 30" oblong ADA and OSHA compliant window, which provides better visibility and reduces accidents. To compliment the door, a black ABS frame is used.
Supermarket
Retail
Restaurant
Institutional
Food Service
Prsons/Correctional