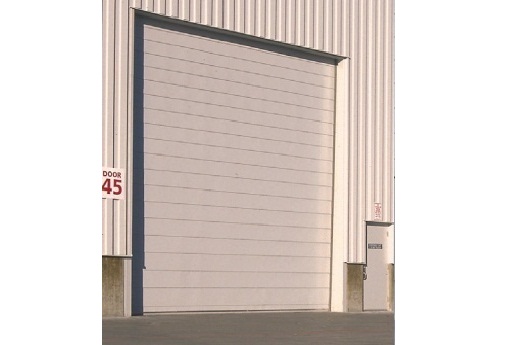 For inside and outside environments
Class B fire rated steel telescoping security doors for interior and exterior environments.
Standard dimension up to 30′ W x 29′ H
Opening Speed: up to 10″ Per Second
Wind Resistance up to 50 psi – Florida huricane zone approved
Colours
White

Blue
Grey
Yellow

Black

Orange

Red

Green
Standard Dimensions
30′ W x 29′ H
Standard Opertaing Speed
12 inch/sec up to 19 inch/sec
Operating Type
Gear driven, direct drive operator
Side Guide
Made of 10-gauge primed steel.
Inner Side Guide
Made of 10-gauge
Drum
In steel, diameter 5″ shafts in steel.
Door Curtain
Curtain panels shall be G-90-galvanized steel with baked-on acrylic prime coat and baked on acrylic finish in 6 standard colors. Additional colors available upon request.
Motor
Withbrake, with 4 poles, controlled by a variable speed drive. Power: 1 HP, 2HP, 3HP and 5HP 3phase. Protection degree NEMA 4.
Gearbox
Eurodrive In Line Operator
Detectors
An infrared photocell installed inside the side guide and detecting the presence of a pedestrian or a vehicle. Upon activation, it opens the door immediately and keeps it open as long as the presence is detected. Height of the photocell: 12" from the floor. (Optional: up to maximum 24" fromthe floor). A bottom edge detector opens the door when it hits an obstacle during the closing cycle. This detector is positioned at the bottom part of the nest.
Power Supply
Standard: single phase 208-230 VAC, three phase 208-230 VAC, three phase 460 VAC. Optional: three phase 575 VAC Frequency: 50-60 Hz. Circuit breakers to be provided by the customer: 6A for a motor of 0.74 HP; 10A for 1 HP and 16A for 2 HP.
Space Requirements
Call for headroom clearance
Curtain made of G-90-galvanized steel with baked-on acrylic finished coat
Sound transmission class rating 29
Double wall construction provides an excellent U-Value of 0.51
Infrared photocell in side guides
Soft bottom edge
Wireless electric bottom edge detector
Maximum standard dimension up to 28′ x 29′
High wind resistance
Operating speeds from 12″ to 18″ per second
Gear driven, direct drive operation
Recommended for high traffic areas
Manufacturing
Production areas
Transportation
Distribution
Automotive
Whenever wind protection is required