An economical door with high standards
This insulated door with high-pressure injected polyurethane foam is an ideal cost saving solution. All made of galvanized steel, this door is reliable and will help your business to make some savings.
Features
26-gauge hot-galvanized steel with woodgrain finish on both sides of the door.
Rustproof baked-on polyester paint. Can be repainted.
1 3/8 in. (35 mm) insulated door with high-pressure injected polyurethane foam ensuring a high thermal-resistance rating of R-12 (RSI 2.1) (k= 0,476 W/m2K), and the solidity of a composite material.
Solid mechanical overlap joint: increases the weathertightness of the door and prevents delamination.
Thermal break between the interior and exterior faces of each section.
Flexible tubular bottom weatherstripping ensuring the weathertightness of the threshold.
14-gauge reinforcement plates placed in the interior of the door where hinges and handles are attached.
Wood end blocks provide a thermal break with the exterior of the door. Steel end caps are available as an option.
Door weight: 1.75 lb/pi2 (8.5 kg/m2)
Price comparison*
| | |
| --- | --- |
| Door model  | Price difference compared to the G-5000 |
| G-1000 (aluminum of 0,60 mm) R-16 (k=0,357 W/m 2 K) | 120 |
| G-2323 (23 gauge steel) R-16 (k=0,357 W/m 2 K) | 133 |
| G-2023 (20/23 gauge steel) R-16 (k=0,357 W/m 2 K) | 146 |
| G-2020 (20/20 gauge steel) R-16 (k=0,357 W/m 2 K) | 176 |
| G-4400 (station service door) R: not applicable | Because this door is fully glazed, it is difficult to compare with others. |
| G-5000 (26 gauge steel) R-16 (k=0,357 W/m 2 K) | 100 |
| G-5138 (26 gauge steel) R-12 (k=0,476 W/m 2 K) | 95 |
| G-8000 (24 gauge steel) Non-insulated | 55 |
| G-8500 (24 gauge steel) R-6.6 (k=0,860 W/m 2 K) | 75 |
* For a door of the same dimensions and with the same hardware system. Installation included. Manual operation. Price comparison may vary depending on the cost of the door opener and accessories.
Colours
The G-5138 is offered in 5 colours with a corrosion resistant, baked-on polyester base paint. Note this door can be repainted.
Ice White
Desert Sand

Claysone

Dark Sand

Moka Brown
Warning
Note that the accuracy of colours on the website may vary depending on your screen settings. To see the true colours, please contact your local Garaga dealer for a sample
Woodgrain finish on both sides of the door
Grooved Patterns
Windows
Sealed thermal glass (total thickness: 1″) are inserted into an polypropylene frame which is cast without joints and guaranteed for 10 years against any glass sealing defect. Window frames are offered in White, Brown, Desert Sand, Claystone or Dark Sand.
Hardware System
13-gauge or 14-gauge, 2 in. (51 mm) commercial tracks (for doors of less than 140 ft2 (13 m2) or 12-gauge 3 in. (76 mm) industrial tracks.
Torsion spring.
Springs from 25,000 to 200,000 cycles (optional) are recommended for high usage doors.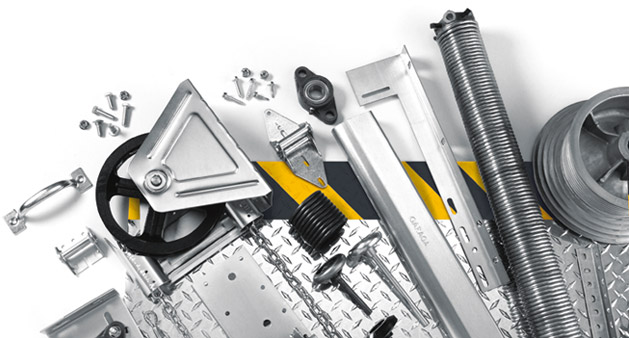 Available sizes
Widths: from 5' to 16', in 1" increments from 1524 to 4876 mm in 25.4 mm increments
Heights: from 8' to 16', (2438 mm to 4876 mm) sections of 19.5, 21 and 24 in. (sections of 495, 533 and 610 mm)