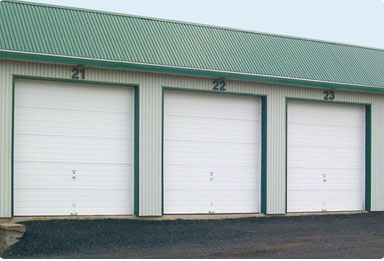 Ideal for non-heated buildings
Garaga G-8000 is a non-insulated door. Indeed, it is ideal for environments that don't need heat or insulation like storage areas. This door is strong, reliable and will help your business control its costs.
Features
24-gauge, hot dipped-galvanized steel.
Non-insulated.
Finely embossed woodgrain design Deep ribbed steel for extra sturdiness.
Flexible EPDM bottom weatherstripping.
20-gauge galvanized steel attached by a Tog-L-Loc® joining system with no rivets at hinge placement locations.
 Price comparison*
| | |
| --- | --- |
| Door model  | Price difference compared to the G-5000 |
| G-1000 (aluminum of 0,60 mm) R-16 (k=0,357 W/m 2 K) | 120 |
| G-2323 (23 gauge steel) R-16 (k=0,357 W/m 2 K) | 133 |
| G-2023 (20/23 gauge steel) R-16 (k=0,357 W/m 2 K) | 146 |
| G-2020 (20/20 gauge steel) R-16 (k=0,357 W/m 2 K) | 176 |
| G-4400 (station service door) R: not applicable | Because this door is fully glazed, it is difficult to compare with others. |
| G-5000 (26 gauge steel) R-16 (k=0,357 W/m 2 K) | 100 |
| G-5138 (26 gauge steel) R-12 (k=0,476 W/m 2 K) | 95 |
| G-8000 (24 gauge steel) Non-insulated | 55 |
| G-8500 (24 gauge steel) R-6.6 (k=0,860 W/m 2 K) | 75 |
* For a door of the same dimensions and with the same hardware system. Installation included. Manual operation. Price comparison may vary depending on the cost of the door opener and accessories.
Colours
The G-8000 is offered in Ice White only, both sides, with a corrosion resistant, baked-on polyester base paint. Note this door can be repainted.
Ice White
Warning
Note that the accuracy of colours on the website may vary depending on your screen settings. To see the true colours, please contact your local Garaga dealer for a sample.
Woodgrain finish

Grooved Patterns
Windows
Single clear plain glass window 1/8 inch (3 mm) is inserted into an expanded PVC frame which is cast without joints. Size: 21 X 13 in. (533 X 330 mm).
Hardware System
13-gauge or 14-gauge, 2 in. (51 mm) commercial tracks (for doors of less than 140 ft2 (13 m2) or 12-gauge 3 in. (76 mm) industrial tracks.
Torsion spring.
Available sizes
Widths: from 6 ft. to 24 ft., in 1-inch increments (from 1.8 m to 7.3 m, in 25 mm increments)
Heights: from 8 ft. to 18 ft., in 3-in. increments. Note: 8'3", 8'6" and 10'3" are not available (fom 2.4 m to 5.5 m, in 76 mm increments)