The PRO-GO is designed for use on commercial and industrial canteliver, single or bi-parting slide gates up to 20ft. (6m) wide.
When ordering a PRO-GD operator, supply us with the following information:
Type of gate
Gate width
Duty
Horsepower
Mounting (LH or RH, inside looking out)
Model
Voltage/Phase
Safety devices
Options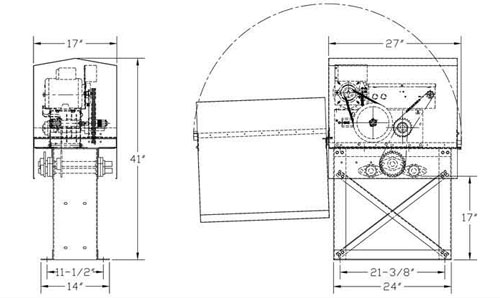 2 year Warranty
Heavy duty reversing contactor complete with mechanical &electrical interlock
Continuous duty motor with overload protection
Timer to close, run-out timer, 1.5 sec time delay, 100VA transformer, control circuit, ON/OFF switch.
Heavy Duty SL V-belt
Solenoid actuated brake system
3/4″ precision fianged bearing on pulley shaft
1″ cast iron flange bearing on drive shaft
24V fused control circuit
Adjustable friction clutch
External radio control terminal strip
Three button control station
Fully djustable rotary limit switches
Powder metal limit cams
#50 sprockets and waterproof roller chain drive
Emergency disconnect with electrical cutout for manual operation
Motor removeable without affecting limit settings
Lockable cover with key lock and provision for pad lock
Left or right hand mounting
Post or pad mount installation
Gate attachment brackets and U-c1amps
Baked on dark grey coat finish
Shipping weight 215 Lbs.
Model
Code
Horsepower (HP)
Voltage (V)
Phase (Ph)
Frequency (Hz)
PRO GO
50-11
1/2
115
1
60
PRO-GO
50-21
1/2
230
1
60
PRO-GO
50-23
1/2
208/230
3
60
PRO-GO
50-43
1/2
460
3
60
PRO-GO
50-53
1/2
575
3
60
PRO-GO
75-11
3/4
115
1
60
PRO GO
75-21
3/4
230
1
60
PRO-GO
75-23
3/4
208/230
3
60
PRO-GO
75-43
3/4
460
3
60
PRO-GO
75-53
3/4
575
3
60
| Option Code | Description |
| --- | --- |
| MK00266 | Heater 11 OV 12SW complete with adjustable thermostatUsed for 11 OV, 460V or S7SV power supplyNote: Seperate transformer required for 460V (MK00223) or for S7SV (MKOOl 00) |
| MKOO516 | Heater 220V 200W complete with adjustable thermostatUsed for 220v l-phase or 230V 3-phase power supply |
| MPOOO51 | Master/Slave option |