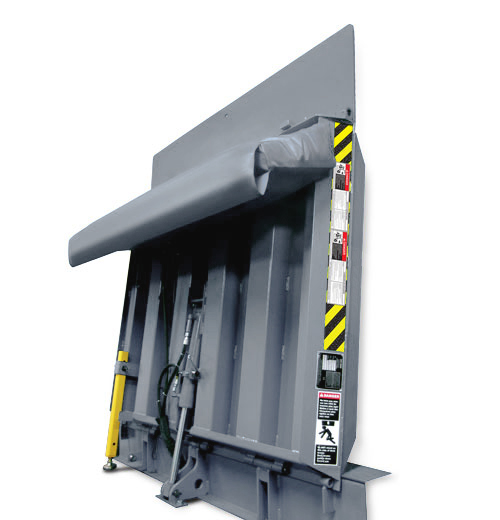 30,000 to 45,000 lb (13,636 to 20,455 kg) Rated Capacity
Your first choice when quoting LEED certified projects. The Portes Olympique U-Series vertical storing dock leveler is the perfect loading dock solution for facilities and applications that require strict climate control or high cleanliness levels. It improves internal temperature control, reduces the risk of door damage, and minimizes debris entry. Trailers typically back into the specially designed loading dock bay and before the doors are opened allowing for contamination, a complete seal is formed between trailer and inside the facility.
Studies on application:  Companies actually lose one ton of refrigerate air per dock door per year, on average, when they use pit levelers instead of vertical dock levelers. The concept of 'drive–thru' applications where the added efficiency, and virtually no loss of refrigeration is appealing.  The trailer backs directly to the loading dock and the trailer doors are opened into the building rather than the traditional opening of the doors prior to fully backing into the position.
The U-Series vertical storing dock leveler is controlled by the Blue Genius™ Gold Series I Dock Control Panel, with an interior and exterior LED lights communication system available as an option. Operating range is up to 12" (305mm ) above and 6" (305mm) below dock level. The unit comes complete with a 1HP, Totally Enclosed Non-Ventilated (TENV) power pack system.
Vertical Storing Leveler Highlights
Deck will flex up to 4" (101mm) when under load
Constant pressure style down button ensures controlled lowering during operation
1 HP motor and equipped with overload protection
One-piece Hinge pin
Minimum of 6 U-beam channel deck supports
3″ high run off guards
Hydraulic system
Double-acting lip cylinder
Hydraulic velocity at hose of cylinder to prevent platform free-fall in the event of hose rupture
Hydraulic fall safe
Operator controls
Blue Genius™ Gold Series I Touch Control Panel
NEMA4X, CSA/UL Approved
Easy downward activation, "operator controls descent"
Independent lip control
Maintain "up" pressure to store leveler prior to truck departure


Safety Features
A hydraulic velocity fuse limits the loaded ramp's free fall to within 3" (76mm)
A home proximity sensor detects when the dock is in the parked position
Stationary side tapered toe guards have high visibility OSHA safety striping
A maintenance strut supports the deck for safe under-deck maintenance and inspection
A range proximity sensor allows the deck movements to match those of the trailer bed, eliminating hazards caused by mismatched deck and trailer bed levels.
Options
18" (457mm) and 20" (508mm) lips
Environmentally friendly biodegradable oil
Hot dipped galvanizing (deck and rear frame)
Stainless steel lip and rear hinge pins
Three wheel forklift center deck support